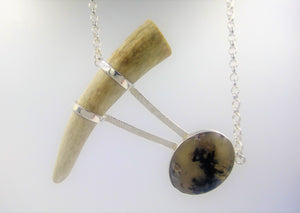 This piece was originally made several years ago when I just started out making my way in the big, bad world of jewellery! It took me a lifetime to make it and I loved it so much, I ended up just putting it on display on my stall at the Artisan markets! It got a lot of attention from adults and kids were amazed at the antler, often questioning if it was a dinosaur tooth! I have recently used the motif of the original piece as my new logo. 
The client I made this new and improved version for had asked me for two years to sell me mines or make her the same. I was reluctant due to health and safety when cutting the antler as a lot of dust rises and a mask doesn't always suffice. But eventually I relented because this lady was the epitome of cool and if she wore my pendant, she'd make me cool too!!
So we went with a tiger dendritic agate instead of the moss agate I have in mine. The thinking behind this piece is the animal eventually goes back to the land when it passes, the two becoming one. The agate represents the land and the deer antler the animal. I didn't know what to call it, hence the title!
Etched sterling silver, tiger dendritic agate, ethically sourced deer antler (found after the deer had shed it naturally in my local forest in Donegal)